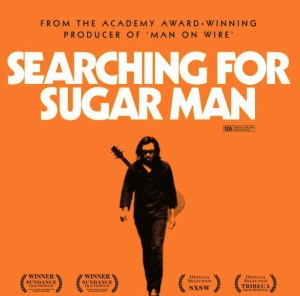 Searching for Sugarman
is a documentary I've just seen and would recommend, if just to tear up to the inner city troubadour lost to his home audience while unbeknownst to him, his first album sells hundreds of thousands in apartheid South Africa. This is the documentary's weakest part, making a meal of how Rodriguez, the subject of the film, was the 'first voice of dissent to overthrow apartheid' (paraphrasing one of the SA musos interviewed). And to represent the militants so inspired by Cold Fact, there's a montage of UCT student demonstrations, anti-apartheid and more explicitly to the alternative Afrikaner, Voelvry movement. Even that is a stretch of the imagination, but it's not too far for the constitution of a white iconoclasm. It is a shame that an artist of Rodriguez's quality should have this following, but his icon status is held in almost exclusively white heads. Every single face at the Bellville velodrome where his first concert was held in 1998 is white and there's not a single black person in the documentary. There's zero recognition by the documentary of this anomaly; just a satisfaction in the package of a dissident voice. That only whites understood it only goes to show who really overthrew the apartheid regime. eh?
The only reason so many white South Africans could listen to Rodriguez is for their uncanny ability to profess one thing and be another, a proverbial not-racist-but sort. It's a cognitive dissonance I've seen in the highschools peers of mine that listened to Rage Against the Machine and
Sepultura
. The music they identified with was writ on their satchels and pencil cases, as is the habit of highschool learners to distinguish themselves. Metalheads by the highchool typology at that time, they were blatant racists who could not have been receiving the messages of these bands clearly. Sepultura's Brazilian and anti-racist? - I was surprised to find this out only after highschool, and that Rage_ was not just against conformity.